"Runyos…Ran… Rrrrano. What kind of last name is this anyway? What bloody country is she from?" This was the racist remark I heard the MC say to a producer of a show. I was opening act for a well-respected Australian Rock 'n' Roller more than 15 years ago when I was starting out in the club scene.
I remember that night, as vivid as the stench of 30 year old spilt alcohol mixed in with hairspray fumes that filled the dressing room.  Dust and dirt camouflaged into the moss coloured RSL club carpet.  The dim depressing lighting didn't help.  I could hear the geriatric voices of the men chatting away, they had no idea I was downstairs listening to their every word.
I hope things have changed since then.
This was just some of the remarks I have come across in my life.
Only a few years back, after spotting a photo of me on his desk, my husband was asked by an elderly female co-worker "oh you are a good person taking her in…did you meet in the Philippines?"
These remarks and experiences made me realise that I was going to keep going with singing and one day help people who would normally say nothing to find their Voice.  Singing was that avenue.  I knew in my heart that one day I was going to help kids or people who were just like me fight back in a way that could breakdown those barriers.
I look at my parents and how hard it must have been for them moving from the comforts of their homeland to make a better life for our family.
"Go back to your country!"
"Asians take all our jobs!"
"You Wog!!"
These were just some of the racial comments we endured back in the late 70s when we first migrated to Australia.
The other day I had an Ah-ha moment…
I didn't open up my singing school just to teach people how to sing.  It's an accumulation of what I felt as a child and young adult that brought me here.
I needed to be heard…I had something to offer…I didn't know how or what it was I was supposed to do.
But I noticed that when I would sing people would stop and listen….
One Voice represents kindred spirits who need to be heard.
My dad and mum didn't know it at the time but their Voice changed my world. They had the courage to move to a whole new country, with no family or friends to help them.  They started from scratch.  They met families and a community with similar values, hopes and dreams.  They didn't know it but their Voices help shape the community to what it is today.
Even the racial remarks made a difference in my world.
One Voice has a ripple effect and can change someone's world…for the better!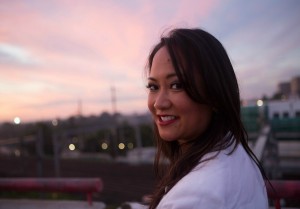 Would love to hear your thoughts…
Tell us in the comment below…what's your Avenue?  Are you a dancer? An artist? A writer? A teacher?
What are you doing to be heard?
Don't forget that I am offering a pre-sale discount for my new 6 week eCourse.  The Secret of Singing high notes with ease.