I don't know why it's taken me so long to release the Project Be Heard film clip my students and I created.
I have my theories but perhaps it's the fear of judgement, fear of not being perfect, fear of facing my fears….
Many of you have contributed to this beautiful clip that was directed by my creative friend Dulce Amor Aguilar and filmed by my uber talented friend Jeffrey Estanislao. It stars One Voice students Jade Lee, Jared Lesaca, Giuliana D'Aprile and my son Christian Bangel.
If you watch this clip, it's not a clip about singing or performance. The message of this song has evolved into a message of speaking up.
This is not entirely a song about singing, even though I am a singing teacher…it's about having the courage to be brave.
For you, it could be being "brave enough to speak your mind."
It could be being "brave enough to not lower your standards so that you fit the mould."
It could be being "brave enough to face trauma that you dealt with as a young child."
Which ever BRAVE it is …own it.
Being Brave means that you give permission for others to do the same.
You give others permission to dream big, to do big and to shine in their own special way.
I dedicate this clip to a child who has had to face their fears all alone.
Which child?
The bullied child,
The bully who didn't know any better,
The child who is navigating through a world in which they don't understand or the child who just wants to be loved, be heard and seen.
When I look into my son's eyes I hope and pray for him
may you learn to be brave,
may you learn to love,
may you learn to be kind,
may you learn to receive love and be loved.
One day, life will serve you days where you will want to give up…but know there are people that will be by your side.
Look for them …pray for them and they will appear.
Be brave. Be bold.
I would like to thank all the Project Be Heard ambassadors who helped this come to life, sponsors, pledgers, people who spread the word especially the people who helped me create the project from the very beginning.
I especially want to thank Margo Ward and the amazing KidsXpress team for allowing us to help spread their work to the world and in turn make a difference in a child's life.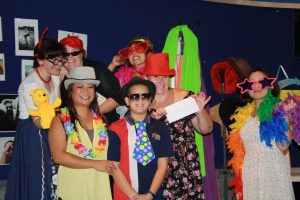 Most of all, I thank my husband Rob and Christian, my parents and immediate family for their constant support, friends and my students, current and past.
One voice can change the world…your voice and mine….
Tina xx
Be Heard written by : Tina Bangel, Louie Ocampo and Lionel Cole.
Thank you to everyone who supported Project Be Heard in one way or another.
We continue to Be Heard because of you!
Credits
Jeff Estanislao Videography
Dulce Amor Aguilar Nuh Productions
KidsXpress
Isy Mosqueda- Hair and Makeup
One Voice School of Singing
Bangel Family, Ranoso Family, Francisco Family, Solarte Family
Bruder Family, Catherine Andres, Raad Family,
Rica Jankulovski, Delane Cooper, Jennifer Turrell, Meri Leask
Robert and Maria Bock, Marcus Rivera, Marsh Family, Sheila Raptis
Gerald and Samantha Oblea, Sunita Naidu,
Radiant Star Entertainment, Cheers Entertainment, Oz Pinoy home loans, Filipino Community Cooperative, What's on 4 Kids , Sizzling Fillo Restaurant
Project Be Heard Ambassadors
Christian Bangel
Giuliana D'Aprile
Jared Lasca
Jade Lee
Abigail Mangtanong
Alexandra Barrientos
Alyssa Gratil
Beia Festejos
Nick Forrest
Caitlin Impreso
Caitlyn Ranoso
Charlize Santos
Clarissa Bock
Elouise Pelaez
Jasmine Henry
Jayme Macaraeg
Jill Gutierrez
Josephine Ezzy
Joy Laquian
JR Barrientos
Kaitryel Pelaez
Matthew Andre Dino
Michael Ezzy
Mikayla Barrientos
Molly Reynolds
Nathaniel Esplanada
Pam Picart
Ysabella Sibuciao