Here we were at the back of the bar at the Intercontinental hotel.  "Hi! I'm Tina!" I said as I shook Leas' hand.  "Yes! We met on Twitter!" Lea said.
Wow! My hero, my idol, someone that I have looked up to for over 30 years remembers me. She had responded to my blog post just before her Sydney concert: You can read it here: How to deal with Haters, Critics and Judgemental people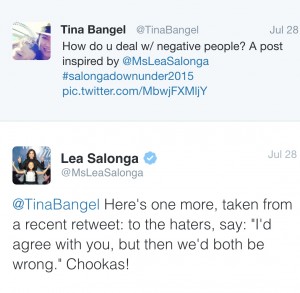 She told us how starving she was after her Sydney Concert at the Sydney Town Hall. I had an out of "body experience" as I sat next to Lea while she ate her burger and chips.
I think that's the experience you get when you are in the moment.
You see everything slowing down. Yep! That's the state I wanted to be in when I met my hero.
After years of learning her songs and listening to her recordings, I reflected back. If I had made the first Sydney cast of Miss Saigon, would I have been at this table next to Lea Salonga? I think not….
This is where my life was meant to be.
I look back and think everything has a time, there is a purpose and trust God or the universe.
I felt like all the hustle, let downs and the highs had led to this very moment.
I was happy to just "BE."
Be in the moment. Be me.
This was my celebration.
I didn't need to get the "selfie" with Lea.
I was just happy to soak everything in. Thank you Lea for being so gracious and down to earth. I enjoyed just chatting about our families and life.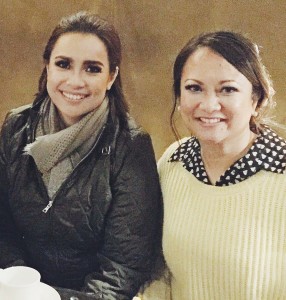 I am thankful to our mutual friend Rosary for introducing us.  A bigger thank you to Rob and Christian for their patience.
Carol Monoloto, thank you for including my students and I at Lea's first ever Sydney concert, what an incredible experience! Thank you to the production team, fellow support artists and especially to Andrew Baris, our dance teacher, who has the gift of bringing out the best out of us!
Thank you to the One Voice families and students for your continued support. I am extremely proud of the kids who put their heart and soul into their performances.



How do you celebrate your wins? Do you celebrate your wins? Tell us in the comments below.
Like, comment, and  share this post with someone you think should celebrate more often!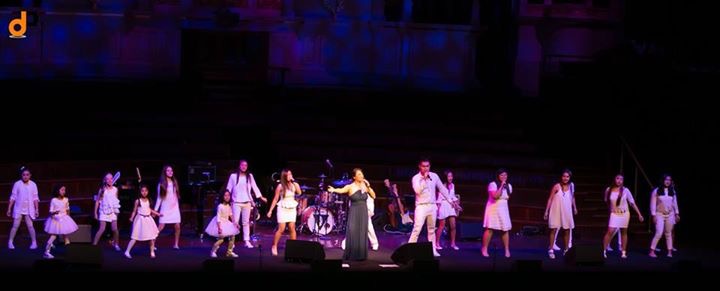 I want you to think about your latest achievement and make sure you give yourself a pat on the back. Sometimes we forget and we move on to the next goal.
You deserve that celebration.
Musically your Tina xx

If you loved these amazing photos Photo Credit goes to: Dennis Pelaez dpelaezphotography.com.au (the twins' dad)
Thank you Cherlize's dad Cy for taking this footage of our performance.
If you would like a copy of Be heard you can download it here on iTunes: https://itunes.apple.com/au/album/be-heard/id944094298?i=944094307