A voice that truly change my world! It's a great honour to have Elly Oh on my Podcast.  Because of Elly's resourcefulness, I am so fortunate to see the Dalai Lama with her during his visit to Sydney.  She will have the honour to sing for his holiness during his visit.  How did she get the gig?  She asked!!! She offered her singing services as a gift so she can meet his holiness and in return was offered two free tickets to the event. What a lifetime experience and also an opportunity to share your gift with one of the most respected people on earth.  That is something money cannot buy.
Elly is one of the most resourceful singer I know.  She is not afraid to go after what she wants and helps create opportunities around her.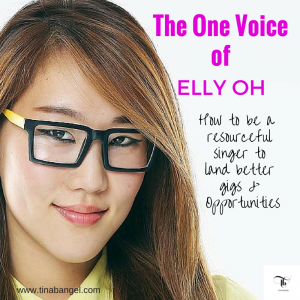 Born in South Korea, Elly Oh has been in the music industry for over 10 years. She first discovered her passion for music when she was 18 years old after volunteering to sing to an old patient at the hospital where the nurse thought Elly had an amazing voice. After studying Bachelor of Opera at the University of Hanyang in South Korea, Elly moved to Italy to pursue her opera career and complete a diploma of Opera.
Elly has performed at various Opera events including places in Italy, Korea and also in Sydney. She has won various awards for her Opera abilities including first prize in the McDonalds Opera competition (World Song).
After moving to Sydney, Australia Elly has changed her vocal style to pop as she enjoyed the upbeat music. She is currently teaching students to sing in a private studio based on her Opera techniques as well as performing the occasional special event.
In May 2014, Elly appeared on the Voice Australia 2014 where she blew away 4 coaches within 5 secs of her blind audition with her powerful rendition of Jessie J's "Mama Knows Best". During the Battle Rounds she continued to wow Australia and the world (alongside her mentor and coach Ricky Martin) with her Opera voice and was clearly the early favourite to win the Voice Australia 2014.
Moving to Sydney only 5 years ago, knowing very little English, Elly found the courage and motivation to audition on national television for The Voice Australia 2014, placing her in the Top 12 out of 8000 plus auditions and is now considered one of Australia's loveable artist.
You need to enable Javascript to view this video
Inspired by Elly's determination I have come up with 10 ways to be a resourceful singer to land better gigs and opportunities.
I am assuming you are a wonderful singer already!
1. Find a good Vocal Coach
If you have a credible Vocal teacher and if she or he can see that you are a reliable student, your teacher might be able to connect you with auditions or refer you to musicians or producers who are looking for a particular singer.
2. Create a EPK (electronic press kit)
An EPK is a must for anyone seeking exposure and publicity as an artist. You can send your electronic press kit to music industry professionals, clubs, media or anybody who might be interested in your work. EPK is your professional resume to the world.
Check out Guy Sebastian's EPK

3. Don't be afraid to do charity gigs
I know some people find it difficult to do charity gigs. If the organisation is a good fit for you and you feel you can build on a professional relationship over the years then consider it. Elly created an opportunity to sing at Kirribilli House by helping raise funds for Kids Xpress. They remembered her work and contacted her to sing for their charity event at the Prime Ministers House.
4. Collaborate with other Artists
Many designers are looking to showcase their work. Consider teaming up with a designer- Clothes, hat, shoes. Help promote their work during your gig as well as on social media (Love Instagram)
5. Hold your next gig at your ideal restaurant or café
You might be able to get a free performing space as long as you bring a crowd in, you may like to ask the owner if you can charge a cover fee that you can keep at the end of the night.
6. Create your album or EP
It will be a great way to showcase your credibility. You will meet new musicians and people in the industry and spark your creativity. It's a win win for all. If you are looking to start creating your album I have a free cheat sheet for you- I'll show you 5 essential steps to start creating your album:
http://tinabangel.com/starmakerguide
7. Find an agent or a few agents
Send them your EKP and make sure you address each agent by their name.  Get to know who they are and if they offer gigs at venues that suit you.
8. Find Expos
If you are interested in landing wedding gigs join Wedding Expos in your area. See if you can sing before the bridal parade as guests are getting seated or sing during the Parade or pay to get a booth.  If you have a booth, have promotional materials & video footage handy.  You can even hand out CDs to the bride to be!
9. Join a reality TV show
I know many people are against this process but if you have an action plan and you are smart about it you can make it work for yourself. If you are mentally set for it go for it!
If at all possible have products and services ready to promote straight after you finish the show.
10. Find Sponsors
Finding Sponsors that are inline with your brand can help you get better gig or help create your credibility as a serious performer.
Do you have a clever tip on how to get better gigs and opportunities? Share it in the comments below.
You can connect with Elly at http://www.ellyoh.com
You can listen to the episode on iTunes https://itunes.apple.com/au/podcast/ep-003-elly-oh-how-to-be-resourceful/id996957012?i=344303654&mt=2
You can download the free Cheat sheet to start your album creation here: http://www.tinabangel.com/starmakerguide
If you liked this post please like, share and comment below!