When Christian was 4 years old he would hold out his palm so I could sing a traditional Filipino nursery rhyme that is very similar to "Round and round the garden."  I had introduced it to him when he was one month of age.
Even at this age the anticipation of the tickle always brings a big smile to our faces.  The big old tickle giggle never disappoints!  That night he asked his Lola (Grandma in Tagalog) to teach him the song.  Moments such as these melt my heart.
"I remember your Lola's dad singing it to me when I was your age."  I tell Christian.   Then I reminisce my childhood memories with him.  Which led to questions like "Where is Lola's dad now? " and "What does heaven look like?"
All these thoughts, feelings, emotions, analysis, disciplined thinking and attending all from a simple song.  Even at this young age a song can touch our deepest emotion and extend a range of feelings.
From this simple song we share a bond, a sense of community.
Not only does it help emotionally, cognitively but also physically.  As he circles his pointer finger on my palm he is developing his fine motor skills, hand-eye co-ordination and at the same time he is learning patterns in language.
Many people ask me "When is a good time for my child to learn music?"
I always say that even while your child is in the womb and from birth surround yourself and your baby with music.
Hans Christian Andersen sums it all up "Where words fail, music speaks"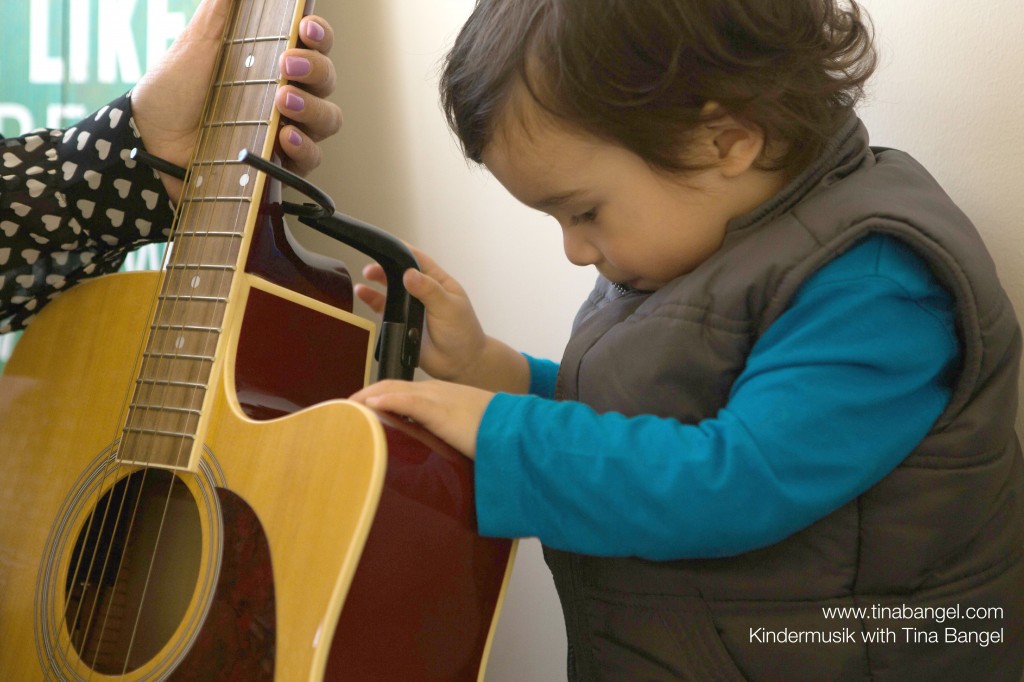 For example – Tap and rock your baby to the steady beat so they learn to internalize it within their bodies.  This will in turn help with the ability to walk, bounce balls, cut with scissors.
Here are some other ways to help integrate music into your child's life.
         Join a structured musical learning class with your child
         Listen to a variety of quality recorded music at home and while running errands in the car
         Sing familiar songs or make up your own songs while you play or when working around the house.
         Take time to listen to all the interesting sounds in your environment – imitate nature sounds while out for a walk.
         Explore sounds with homemade instruments like pots and pans, spoons, and shakers
         Create family music making opportunities in which everyone plays along. Include all your talents from playing the spoons to folk      instruments to gathering around the piano.
         Dance to music from the radio, television, or any other source you enjoy.
         Use simple props such as scarves, balls and hoops to play movement games.  Add a favourite song.
         Make music part of your child's bedtime routine or any routine (bathing, cooking, cleaning) – lullabies are particularly
         Soothing and calming and provide a time for parent and child bonding.
The bottom line is music and dance – within a fun, loving and nurturing environment – can bring a life long happiness and warm memories in your child's life.  What a wonderful start to life!
In the meantime,  Check out Carlo Tapia's daughter who has been surrounded with music all her life. Carlo Tapia is a professional bassist in Sydney who says that his children are surrounded by people who can either sing, play an instrument or dance.
My favourite part of the clip is the surprised proud look that Carlo has when she hits one note and creates a vocal tone that is obviously beyond her years. What a precious bond between father and daughter.
<object width="560″ height="315″><param name="movie" value="//www.youtube.com/v/BnPyiMLABJI?hl=en_US&amp;version=3&amp;rel=0″></param><param name="allowFullScreen" value="true"></param><param name="allowscriptaccess" value="always"></param><embed src="//www.youtube.com/v/BnPyiMLABJI?hl=en_US&amp;version=3&amp;rel=0″ type="application/x-shockwave-flash" width="560″ height="315″ allowscriptaccess="always" allowfullscreen="true"></embed></object>