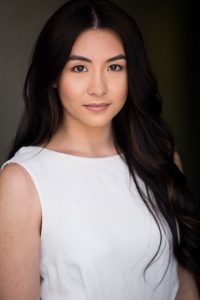 Susana Downes has been an avid performer since she was little, trained in ballet, jazz, tap, singing and piano.
She then went on to study music and musical theatre at the McDonald College of Performing Arts, obtaining her HSC. She then went on to study her Bachelor of Music (Music Theatre) at the Australian Institute of Music (AIM).
During her time at the McDonald College, Susana performed the role of Lucy in the New South Wales premiere of 13, and sang 'Bless the Lord' in Godspell.
While at AIM, Susana was fortunate to be a part of the ensemble in Rent (Tyran Parke) and to play Peg Hartigan in Summer Rain. At the same time she also performed in various local productions including Hairspray, The Wizard of Oz (both with Packmen Productions) Gigi in Miss Saigon and Carmen in Fame.
After completing her degree, Susana starred in her dream role playing Wendla Bergman in Spring Awakening with independent theatre company, Stagetek Productions, in 2014. She has also been an avid member of Exclaim Theatre company, being in their three latest productions; Dionne in Hair, Mortimer in The Fantasticks and Carla in In The Heights.
Susana was also privileged to take place in the 2015 Sydney New Voices Masterclass and Performance with Matthew Lee Robinson.
Susana was also the Miss Charity Queen for the Miss Philippines-Australia pageant in 2015, travelling to the Philippines representing Australia and visiting various areas of the Philippines and helping raise money for various charities.
Susana performed her first solo cabaret in 2015, titled My Musical Wishlist, where all proceeds of the cabaret went to charities as part of her journey as Miss Charity Queen.
In this episode Susana chats about her upcoming One woman show, her inspiration and her vision.
I have loved watching her grow as a performer we dive into her musical upbringing and the huge difference working with an agent and management has been in her business.
She share with us her love of Pageants, being mentored, holding 7 jobs and her hopes for the future.
You can follow Susana here:
This episode was sponsored by: SG Homeloans 
Tina Bangel's 6 week Breakthrough sessions for visionary Singers and entrepreneurs: Life changing program to release Negative emotions and limiting beliefs that are holding you back from your true potential.